Fish Report for 12-3-2007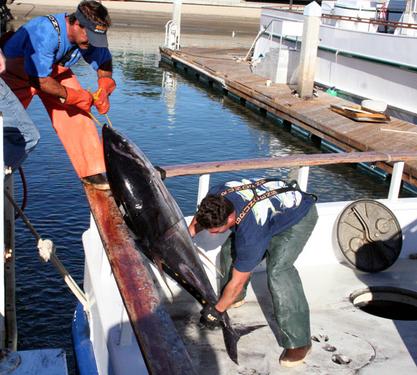 Vagabond Sportfishing Fish Report 12-03-07
12-3-2007
Mike Lackey
Well, here it is, the final story of 2007. We enjoyed great passengers, mostly calm weather, and good action every day on 35- to 110-lb Tuna. We had 4 cows: Davey Tang (200#), Chris Crueger (223#), Rick Hobbs (233#), and Danny Cash pulled in the big one, a beautiful 257-lber. We also ended up with quite a few fish between 100 and 199 lbs.

Here are top 3: Danny Cash w/257 lbs, Rick Hobbs w/233.8 lbs, and Chis Crueger w/220.6 lbs. Thanks to Jim Pea, who was always ready with his camera!

I'd like to thank all of you who made our year so enjoyable for the crew and myself. I'm very proud of my crew, Tim, Dave, David, Ryan, Dan, and Gordon and the excellent job they have done. Thank you guys for the great, smooth season. We are looking forward to next year and another big season. For now, a much needed vacation for me and the crew.