Fish Report for 9-7-2008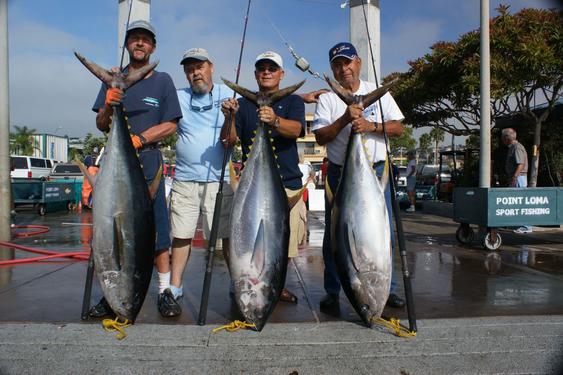 Cofe Products Trip Scores Bigtime
9-7-2008
Bill Roecker
A six-day visit to a mystery spot provided Mike Lackey's 19 Vagabond anglers with a huge catch of tuna. They appeared to have limits of yellowfin and a good catch of yellowtail along with some wahoo. Even chartermaster Larry "Reelmeister" Coffeen had a big tuna, which he said was the first one on the boat.
The winning fish was a 105.8-pound tuna that angler Byron Cloar said gave him a hard fight. He said he baited a sardine on a 4/0 Mustad hook, tied to 50-pound P-Line and 60-pound Spectra to get it. He used a Tyrnos reel and a Calstar six-foot graphite rod.
Rick Perry of Sahuarita, AZ bagged a 96-pounder for second place, and Sam Romero of Santa Ana found a 93-pound tuna, good for third place.