Fish Report for 2-1-2020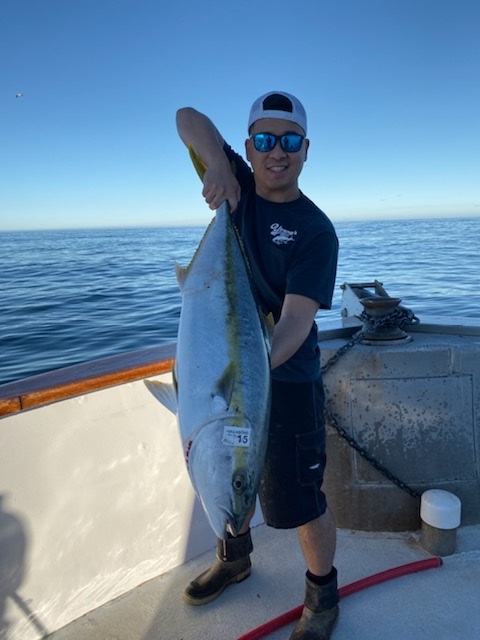 Yellowtail
2-1-2020
Big Hungry

The Vagabond just called in from their 1.5 day charter with 35+ Yellowtail on the deck so far! Check back later for a final count...
--------------------------------------------------------------
Josie Lynn has a set of 3/4 Day Combo Rockcod/ Lobster trips every Saturday until the 14th of March. The $260 price Includes equipment, food/ beverages and fish cleaning. Extras are Mexican fishing license, FMM travel visa, CA fishing license, lobster report card and gratuity.
The Mission Belle has just scheduled their first full day Coronado Islands trips of 2020! They will be returning to action on Friday, February 7th. The trips will also depart on Saturday, February 8th and Sunday, February 9th. These trips depart at 6am and cost $155 per person. A valid passport is required for all passengers. No exceptions. Give us a call at 619-223-1627 or book online to get your spot!
The ½ day boat, Daily Double is having pretty consistent fishing for Calico Bass, Sand Bass, Halibut and Sculpin at the local kelp beds. The Double is scheduled to depart at 8:30am and returns around 2:30pm. Ticket price is $52 for adults, $42 for seniors or active duty military and $37 for juniors. California fishing license and equipment rentals are additional and available in our tackle shop.

The Game Changer has open party 1½ & 2½ day trips schedule for the 2020 season. Ticket price includes meals, permits, fishing tackle and fish filleting. Check out this link https://www.pointlomasportfishing.com/schedules.php?trip_filter%5B%5D=0&boat_filter%5B%5D=1062 for dates and pricing.
The Vagabond has a 2.5 day trip departing on Friday February 14th. This trip will be fishing the Baja coast / Colonet area for Yellowtail, Lingcod and Rockfish. Ticket price is $775.00 and includes your meals, Mexican fishing permits and tourist visa. Call our office to book your spot (619) 223-1627