Fish Report for 3-8-2011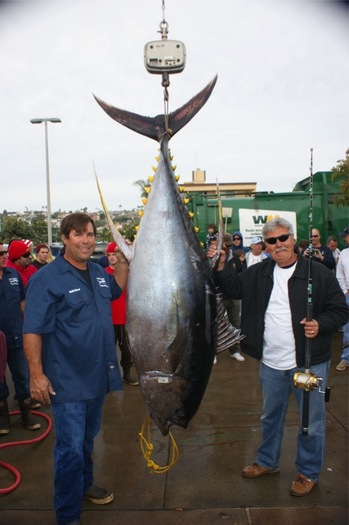 It's Official! New World Record
3-8-2011
Bill Roecker
IGFA production manager Adrian Gray told Bill Roecker this morning that Mike Livingston"s 405.2-pound yellowfin tuna, caught aboard Mike Lackey"s Vagabond late last fall and weighed at Pt. Loma Sportfishing December 6, has been officially accepted by the organization as the all-tackle world record.

But wait, as the television hucksters say, there"s more. The fish has also qualified and been accepted as the 130-pound line class record. This comes after careful testing, story-checking and all the other things the IGFA does to make certain its records are accurate and true.

This morning, March 8, Livingston said at his Sunland home, "It was just great to hear! They called yesterday. I"m happiest for Mike Lackey. He"s the nicest guy, a great family guy, everything we"d like conveyed that"s really what it"s all about down there; what the spirit of San Diego sport fishing is all about. Mike"s one of the hardest working skippers I know.

"I fish year-round," continued the new double world record-holder. "I often fish out of San Pedro on Freedom. I try to get out as much as I can. I"m going rockfishing in Ventura on a charter on March 15. I was a school administrator, an executive director of student services in Glendale. I"m retired now.

Livingston is a true sportsman, not just a fish-killer.

"I hooked my three best calico bass on a trip to Cedros Island not long ago, and released 'em all. They were huge bass, not like the ones we catch up here. The guys said they couldn"t believe it. One said to me, 'You"re not gonna eat those fish?"

"I"m gonna eat the tuna," Livingston said, "but not the bass. You"re going eat a 30 or 40-year-old fish? I"m not going to keep those bass any more. And that"s what I told them."

Vagabond skipper Mike Lackey was in his office, getting ready for the Fred Hall Show in Long Beach (the show starts Wednesday, March 9) this morning.

"I"m just elated for Mike," he told Roecker. "It"s incredible to realize somebody got a goal like that on our boat. It makes you feel good to think it went to the right person; that"s important to me."

So the world record tuna story comes to a temporary end, at least until someone can best Mike Livingston"s fish. That may be a spell from now, as Curt Wiesenhutter"s 388-pounder stood as record from April, 1977 until March of 2011.

For those who missed it, here"s how it all came down last December 6, when the giant tuna arrived at the dock.

The length of the bull tuna, as measured by Lackey aboard Vagabond, was 85 ? inches, and the girth was 61 ? inches. The taping formula of girth squared times length, divided by 800 yields this figure: 405.4099 pounds.

"I got him on a sardine," said Mike Livingston, "and a 9/0 Owner Super Mutu hook. I used 100-pound Soft Steel Ultra line and 100-pound Power Pro Spectra on my Penn 30 reel, which was a gift from a buddy and was blueprinted by Cal Sheets. I custom-wrapped the rod myself, It"s a five and a half-footer, a no-name. After all those years, since 1974, I"ve been out fishing on many boats, and I get this one on a no-name rod! My best one before was about a 100-pounder.

"He fought for two hours and 40 minutes," continued Livingston. "I only had a topshot of about 100 feet of mono and it had just gone into the water when he bit. He was a cooperative fish. He went from the port corner to the starboard corner quite a few times, and one he took me up the port side to the bow. When he came back he never left the stern again.

"When he struck I had 26 pounds of drag pressure on the reel. I"ve never had a big one hooked before, so I listened when (crewman) Timmy DePhilippis said to put the lever all the way up to full drag. Boy, that took me to my toes! I used all that the reel had and my fingers. The reel got real hot on that first run, but it cooled down again. When I finally got all my line back it was packed way down on the spool."