Fish Report for 9-10-2011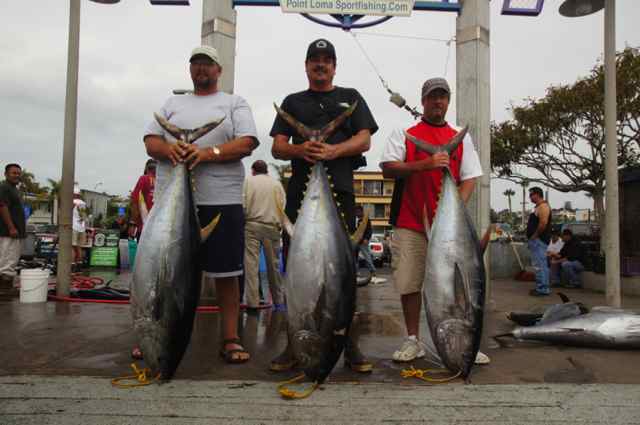 Vag Bags Big Boys
9-10-2011
Bill Roecker
Mike Lackey brought his vagabond home to Pt. Loma Sportfishing September 10 with a good catch of mixed fish that included some big Guadalupe Island yellowfin tuna. The six-day trip was a Cofe Products trip with Larry Coffeen as chartermaster. "The check-in at Ensenada went real smooth. We started at Benitos for a day of yellowtail fishing," said Coffeen, "and then fished at the big island for a couple of days and a morning and then we went offshore."

Mike Gaskill of Pinoche, NV won first place for a 99.4-pound tuna he fooled with a sardine on a 5/0 Mustad 94150 hook tied to 50-pound Seaguar fluorocarbon. He said he fished with 60-pound Line One spectra on a Penn 15 KG reel that encountered problems during the fight, and a Calstar 700 H rod.

Daviud Kahorvich of Irvine won second place for his 94.8-pound tuna, and David Heath of Minot, ND took third place for his 93.8-pounder.

There were a couple of ineligible fish over 100 pounds. One was a 111-pound Guadalupe Island yellowfin caught by Byron Cloar of Hawthorne on a balloon.