Fish Report for 6-24-2007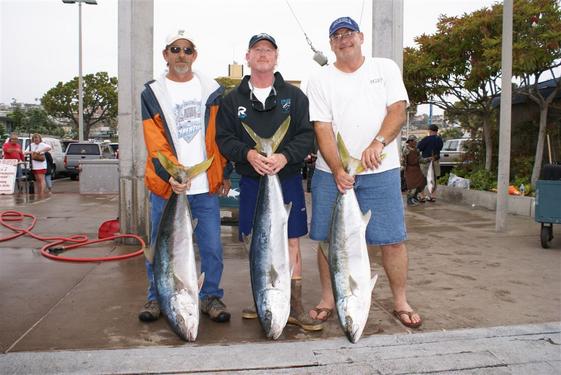 Lucky 13
6-24-2007
Bill Roecker
Mike Lackey docked his Vagabond at Pt. Loma Sportfishing June 24, following a four-day trip with just 13 fishermen aboard. They had a good catch of yellowtail aboard to go with a bluefin tuna and 41 albacore.

"We got all those albies after five p.m. yesterday," said Mike. "We weree down off the beach at 115 miles, and we saw a lot of small bait there. I think they were seardines of anchovies."

A sardine on a 3/0 Mutu hook produced the winning fish for Roger Henne of Mesa, AZ. The 41.6-pound yellowtail succumbed to Henne's 80-pound Ande line on a 6/0 Peen reel and a Daiwa five and a half-foot rod.

A kelp paddy provided the second-place 35.6-pound yellow for Joe Ferris of Carlsbad. Nick VenderDussen of Fountain Valley won third place for a 35.4-pound yellowtail.