Fish Report for 7-4-2007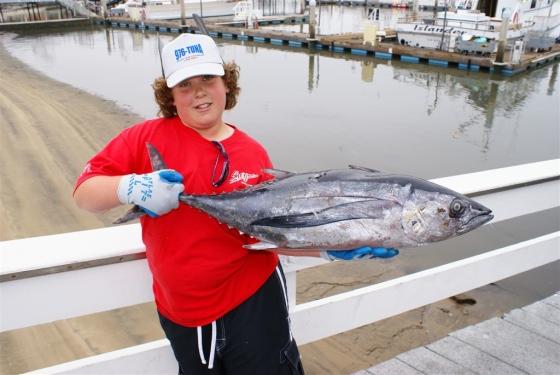 Cedar Plug's Hot
7-4-2007
Bill Roecker
Mike Lackey brought Vagabond home to Point Loma Sportfishing July 4 after a three-day trip fishing offshore for albacore.

Eleven-year old Ryan Meyers, of Valencia caught seven fish on the troll using an "old school" cedar plug jig.

"Don't give away my secret," said Meyers, already a long-range regular.

"The cedar plug was on fire!" said Lackey. "Ryan was the trolling king! He also caught a Fishtrap yellowtail, and he ended up fishing light line just for the fun of it."

Dale Marr, of Gilbert, AZ took first place with a 30.4-pound albacore. Dale fished with his son Kyle, both on their first long-range trip. Dale used the boat's gear to land his fish.

"This was our first time on a long-range boat," said Dale. "It was a fantastic father-son fishing trip."

Laurens Rhinelander, of Culver City was second place with a 30.4-pund albie caught with a 1/0 Owner ringed hook, 30-pound Izorline Spectra, a 975 Penn reel upgraded by Cofe Products, and a Calstar 700M rod.

Trent Kanemaki, of Fullerton took third place with a 29-pound albacore caught with a 3/0 Owner hook, 30-pound P-Line, an Accurate 870 reel on a Calstar 800L rod.