Fish Report for 11-5-2007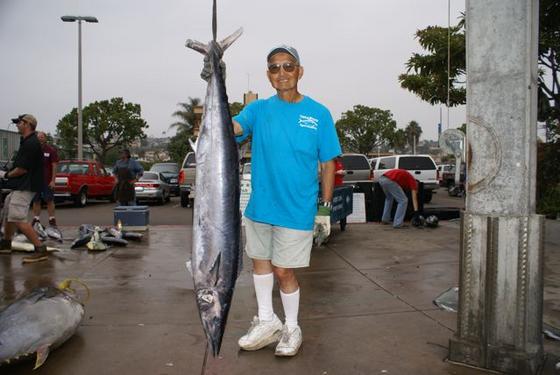 New Wahoo Area
11-5-2007
Bill Roecker
Mike Lackey docked his Vagabond November 5 after a nine-day trip with 16 anglers that visited the southern banks and a new area for wahoo fishing. He tied the boat at Pt. Loma Sportfishing and weighed the best of the catch.

"We caught ???em everywhere we went," said Mike, "all species. The wahoo prospects are really good; we found a new area."

The best fish of the trip was a 175.8-pound yellowfin caught by Jim Pea of San Diego. He was still excited by the fish.

"You should have seen that big fin slicing through the water behind the stern," he told dock news editor Bill Roecker. "I really shouldn't have been fishing with 60-pound line."

The big tuna beat him up for an hour and a half. Jim said he baited a sardine on a 6/0 ringed Super Mutu hook on 60-pound Izorline with 90-pound Spectra backing. He used a TLD 20 reel and a six and a half-foot Seeker Black Steel rod.

Second place went to Matt Pehkoff of Dana Point, for a 91-pound tuna. Joseph Arbore of San Diego won third place for an 83.4-pound yellowfin tuna. Greg McCloud of Seal Beach posed with the winners with his new season-best dorado of 46.8 pounds. The big bull ate a mackerel on 30-pound line.

Eddie Hagihara of San Gabriel got a 56.8-pound wahoo on an orange and black Marauder.

Francisco Gamboa of San Diego got a 133-pounder that was ineligible. It also took a sardine, on 60-pound Maxima.

"It took an hour to land," he said. "I never felt anything like it. It's my biggest fish ever."